A small discussion about my kitchen iMac on G+ a few months ago revealed that it has been over ten years since I first talked about putting a computer in the kitchen. A decade later, I can't imagine not having a computer in the kitchen, but there have been some upgrades to the setup we use. For those who want to try something like this, hopefully you can avoid some of the trial and error we went through.
Hardware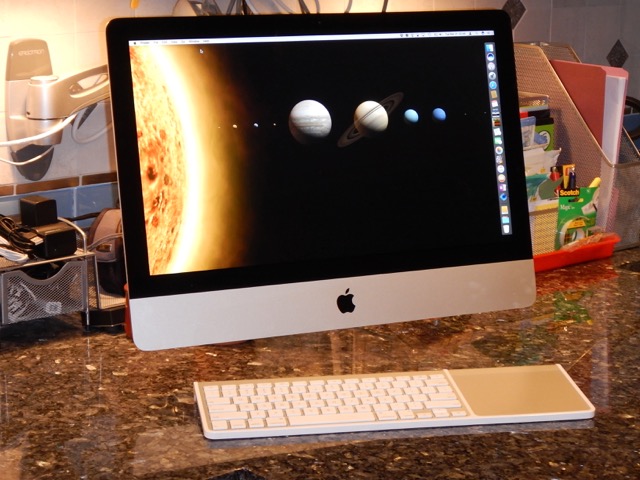 We continue to use an iMac, though we've gone through a couple iterations since the previous post. The iMac design has refined down to now being a flat panel screen with a computer hidden inside, which works great for a kitchen, when you don't want stray hardware and cables all over the place. Our current model is several years old (late 2013, 21.5-inch, 3.1GHz i7). With this particular model, however, we wanted to mount it on a wall mounted swinging arm. We have remodeled the kitchen, and the machine is no longer in a corner. Instead, part of the counter extends into something like a table/island. A swinging arm allows the iMac to be reoriented depending on use in various ways, and always keeps the computer floating off the table. The remodel also allowed us to run CAT-6 ethernet cable into the kitchen, freeing the kitchen machine from the vagaries of wifi.
Apple doesn't make them easy to find, but they sell a variant iMac with a built in VESA Mount instead of a stand. Pretty much any wall mount, desk mount, articulating arm, etc. follows the VESA standard, so you can tailor your mounting choice to your kitchen. Note that iMacs keep getting bigger and bigger screens, so it's not clear how long Apple will continue to sell models that fit under cabinets.
We went wireless for the keyboard (the only computer in the house to do so). In a kitchen environment, typical mouse solutions get gummed up quickly, so the Magic Trackpad turned out to be a really good fit. One thing that helped way more than we expected was Henge Docks Clique, a simple plastic mount that holds the keyboard and trackpad together as a single unit. It also has the advantage of shielding them both from spills on the counter. It also lets you easily use it on your lap, if you want to. (Note that there is a new version for dealing with Apple's latest keyboard/trackpad, which we do not have.)
We get brownouts fairly often, so we still use an uninterruptible power supply, but with a machine floating on a swing arm, finding one that doesn't take up the whole counter presented a challenge. We tried a couple of things, but I eventually found the Powercom E-Book EBK-500S, a battery backup system that can be mounted under a kitchen cabinet. This has worked great but is presently hard to find, listed as out of stock in most places. The batteries in my unit needed replacing once, but fortunately are pretty standard and easily swapped.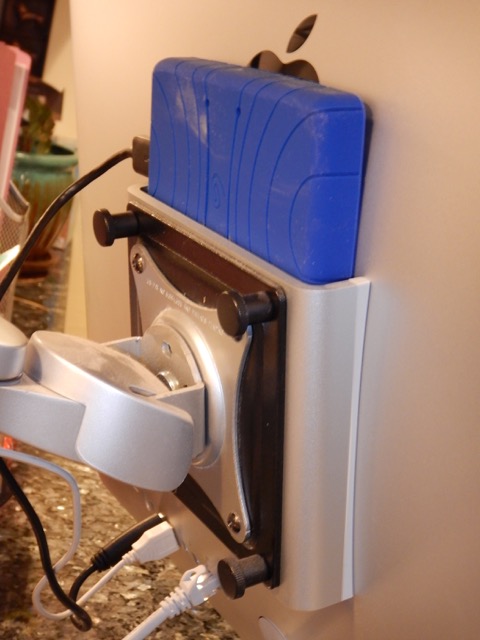 We keep some hard-to-replace stuff on this machine, so it has a dedicated backup drive. We futzed with this a lot, but have recently settled on a Seagate Backup Plus Slim 2TB USB-powered drive. With a case on it, it fits snugly into a gap in the VESA mount behind the iMac, hiding the cabling. We dedicate the whole drive to be a Time Machine disk.
Software
&

Use

Somewhere along the way, we gave up on the "kiosk" features mentioned in the decade old post, but still care about the other use cases it mentions. The machine's primary job is to be a central place for family photos and music, and where iPods and such get synced.
Pictures
Over the last few years, nearly all of Apple's Mac applications have suffered a transition to a more iOS-like user experience. This is nowhere more evident and painful than in the transition from iPhoto to Photos, wherein a number of features we counted were either eliminated or altered to require using iCloud. We very much want the kitchen machine to be the central place to store all the family photos, but refuse to put our pictures in the cloud.
Though we looked around for alternatives, we continue to use Photos, but only because it has matured a little since its original release and we found some additional software that makes it work for us: PhotoSync. Versions of this application are made for macOS, iOS, Android and Windows and they all allow the device that is running them to sync (in various ways) to other devices running the app. The iOS version makes good use of geofencing features, and can be set up to automatically sync pictures from a phone or other device each time the phone enters the house.
PhotoSync can duplicate photos, especially if you do manual re-imports, though it has gotten better about this recently. Still, removing duplicates is something that Photos will not do for you. PhotoSweeper will, though. In the tradeoff between usability and power, it leans more toward power, but definitely gets the job done. Totally worth the money. It can also deal with Aperture and Lightroom.
Music
Music has faded in importance to us over the years. Some of this is because we now can count the minutes in our commutes to work on one hand, and tend not to listen to it once at work. A number of years ago, we paid Ripstyles to digitize our several hundred CDs, and our collection hasn't grown that much since. The kitchen machine provides a great place to manage our merged musical tastes, rather than managing separate libraries on laptops or something.
Plain old iTunes has been sufficient for handling all this, without the need for anything else (or Apple Music). When we remodeled the kitchen, I wish I'd thought ahead enough to install some speakers into the ceiling. Instead we use a USB speaker bar, mounted under the cabinets. Not the best, but works well enough.
More often, we use AirPlay to pipe music to other rooms, particularly nighttime music into our son's room. During parties, the kitchen machine streams to multiple Apple TVs in the house, usually controllable by phone with (the somewhat twitchy) Remote app.
Video
You could use a kitchen machine as a video hub, but we don't. The main limitation is that the iMac drives tend to be small (especially a few years back, when SSDs were just getting going). If you have one more more Apple TVs (we have collected a handful), you can use their "Computers" app to stream video from shared iTunes libraries on the local network. So, the idea would be to load up iTunes with your movies, set up sharing, and then stream to any Apple TV or iTunes instance in the house.
We actually follow this model, we just don't use the kitchen machine as the hub. (The video hub is in a rack in the attic, connected to a multi-terabyte RAID, but that's probably a different post.) What we do use the kitchen machine for is to stream video to watch. You can also stream Netflix and so on. I have toyed with installing stuff like Plex, but haven't really caught the fever for it.
Sync
A large source of frustration, trial and error over the last ten years has been syncing information to and from the kitchen machine. We've tried various syncing applications, rsync jobs, Dropbox hacks and so on, but it never really worked all that well. Then BitTorrent Sync came out (now renamed to Resilio). It works exactly the way we want it to, works seamlessly and has given us no real problems. It even syncs Mac file metadata, such as tags. (One caveat: do not share the root of a Mac drive, as this really confuses the software.)
On the kitchen machine, we share both the Photos archive and iTunes library as read-only shares, allowing them to be backed up in multiple places (including the aforementioned machine in the attic). We also share some directories for specific purposes (such as a common wallpaper directory).
Calendars and contact information have also been troublesome over the years, but this is one area where Apple's family sharing is finally useful. We have a family id (used by the kitchen machine) and individual ids for each family member. This lets each person have both private and shared calendars. Lots of planning discussion now happens around the kitchen machine, as it displays all the shared calendars.
Reference
One thing a machine in the kitchen helps with is going paperless. Any time we get something with a manual (an appliance, device, tool, toy, etc.) we download a copy of the manual to a "Manuals" directory (shared by Resilio) and recycle the paper manual. So, the kitchen becomes the goto place for instructions. And, since there is an iOS client for Resilio, you can do things like easily find the manual for your camera while on vacation.
A cooking database also fits on a kitchen machine naturally. We had the best luck with SousChef, right up until it collapsed, moved to other developers, then vanished off the face of the earth. So, we've gone back to MacGourmet Deluxe, which has improved over the last decade (but still isn't as good as SousChef was).
Naturally, the web browser gets quite a bit of use on the kitchen machine for looking up various stuff, checking the weather, and so on.
It occurs to me writing this that I really should move my Calibre and Delicious Library data to the kitchen machine as well.
Lists
Managing the grocery list comes naturally to a kitchen machine, but it gets complicated with getting the list to people's phones and so on. Fortunately, there has been a lot of development in this area over the last few years. We experimented with a lot of it, but made the change to OneNote a while back, and haven't seen any reason to stop yet. (Tangentially, I'll also mention that Microsoft's Mac software, after falling far from the glory that was Word 5.1a and Outlook Express, is now quite nice again.)
The Future
Given that we planned a computer into our kitchen remodel, it should come as no surprise that as long as I have a kitchen, I'll have a computer it in. It remains to be seen how much longer Apple will make iMacs that still fit under kitchen cabinets (screens seem to get larger with every iteration). As my son gets older, it will also be interesting to see if/how the demands on the machine change. What would you use a kitchen machine for that we missed?
---