Corners of kitchen counters have always bugged me. Not many things fit into them in a useful way. About the same time I was getting obsessed with the uselessness of my own kitchen corner, I realized that I had a spare iMac lounging around. Since I have a wife who a) is even more of a gadget freak than I am and b) said the magic word ("whatever"), I put the machine to work in the kitchen. After having done a bit of work on this machine, it's always-twitchy power supply finally gave up for good and the experiment ended.
Then something strange happened: we really began to miss the little dude. We kept reflexively going over to where it used to be to use it. The kitchen was suddenly sadder. We hadn't realized it, but we'd actually been using the machine quite a bit. Clearly, we had no choice but to buy a brand new 17" iMac G5 (now the fastest machine in the house). We considered a 20", but nixed the idea as being…excessive (and, it turns out the 20" wouldn't have fit under the cabinets anyway). The machine came quickly and was easily set up (note that the machine hides the big black UPS that is behind it pretty well):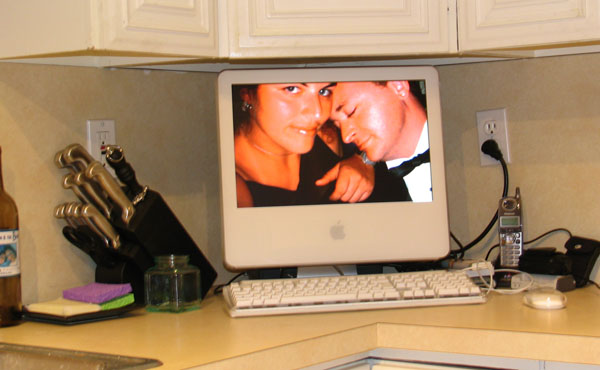 But what can you possibly use such a thing for anyway? Ours pulls the following duties:
Pictures
We have five other Macs in the house and three digital cameras. We were going a bit nuts trying to keep our photo albums in sync. With the kitchen machine, we now just put everything on it, using it as a master photo archive. Since iPhoto can publish to the local network, we can view our shots from any machine in the house. In doing this, it became necessary to merge several iPhoto libraries together, a daunting task due to iPhoto's criminally inane handling of dates when importing and exporting. Spending the $20 on the iPhoto Library Manager is money well spent, trust me.
With all our photos on it, the machine also acts as a picture frame, using the screen saver that comes with Tiger to display pictures from iPhoto. We are pretty good about rating our pictures, so have a smart folder in iPhoto that automatically includes any 4- or 5-star shots, and set the screen saver to show those. Believe it or not, when the original iMac died, this was one of the things we missed the most.
Kiosk
Though I would never run a personal machine like this, having the iMac in the kitchen lends itself to showing things like stock tickers, weather updates, news and so on as its primary display mode. Originally, this was done with Konfabulator, but the new machine uses Dashboard. I have to admit that, for personal machine, I don't get what the big deal with Dashboard is. Most of the widgets seem to just reproduce things you can more easily do with an application. For a kitchen kiosk, though, Dashboard works great. Most of the time, the machine's screen looks like this: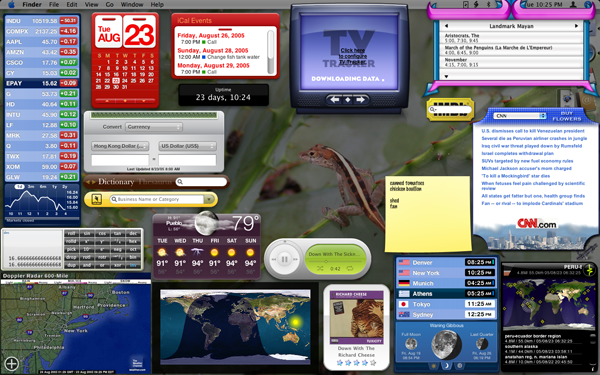 Key to this is a piece of software that provides functionality that should have been included with Dashboard itself, but wasn't: the ability to make dashboard appear after a certain amount of idle time. As always, third parties come plug glaring holes in Apple's products, in this case Dasher. With it installed, the kiosk comes up without having to think about it.
The widgets currently running are:
Stocks: Included with Tiger. Tracks stock prices.
Calendar: Included with Tiger. Shows the current date and month.
iCal Events: Displays upcoming events from iCal

TV

Tracker: Shows what's on

TV

in your area. Not resizable, unfortunately.
Marquee: Ugly and a screen real estate hog, but useful, displaying movies playing in your area.
Unit Converter: Converts currencies, volumes, you name it.
IMDb: A quick movie lookup.
News Grab-R: Displays news from various sources.
Dictionary: Included with Tiger. A quick word lookup.
Phone Book: Included with Tiger. Search the yellow pages.
Stickies: Included with Tiger. Jot down things, like shopping lists. This turns out to be a major use of the machine.

RPN

Calculator: I can never go back to non-

RPN

calculators now.
Weather: Included with Tiger. A five-day forecast for your area, with current condition and temp.
iTunes: Included with Tiger. Controls iTunes.
VelaClock: A multi-time zone clock. The only widget I've paid for.
TemorSkimmer: Shows earthquake spots in real time.
Radar In Motion: A nearly real-time animation of weather.
Sunlit Earth: A realtime map of the sun's position on the planet.
Album Art: Shows the cover art of the album currently playing in iTunes.
Sound
Since not many applications live on this machine, it has a bunch of free space. We've been filling this by ripping our CD collection onto it. Like iPhoto, iTunes can publish songs to any machine in the house. It can also play to either of our two AirPort Express stations. We sometimes bring one outside and hook speakers to it.
In setting this collection up, I became momentarily obsessed with attaching cover art to my song files. For some reason, this is much more difficult than it needs to be. Ultimately, I found MPFreaker, a tool that should probably be free, but can charge $20 since this is cheaper than my having to code the equivalent myself. It does a decent job filling in fields missing from your songs, including cover art.
Calendars
While iCal is not the best calendaring system in the world, it is good enough, particularly since it syncs with Palm devices (usually). We run four calendars on the kitchen machine. One contains our work schedules, another contains personal events (parties, appointments, etc.). The other two are frivolous, hosted externally, showing the Denver Broncos schedule and movie release dates.
The best feature of iCal is that you can publish calendars to a WebDAV server, allowing you to subscribe to the calendars from other machines. The trick is finding a WebDAV server. Fortunately, Tiger comes with Apache already installed, and it can be configured to be a WebDAV server. This is a little tricky, and how to do it is best explained elsewhere. It takes a little brain power, but once done, any changes you make on the kitchen machine get published and picked up by the other machines subscribing to the calendar.
Cooking
Given that the main point of a kitchen is to cook, it makes sense to use the iMac there as well. There are a few options here, but we've taken to using a recipe and wine manager called MacGourmet. A lot of people swear by Connoisseur as well, but I don't like its interface as much and it doesn't handle wine as well.
Sync
The last task for this machine takes advantage of the fact that it runs all the time (and has a large hard drive). It runs various backup and synchronization tasks to various machines in the house. There are a bunch of ways to do this, but Duover seems to be the least painful.
Finally
Naturally, we use the machine's web browser nearly every day for one thing or another. I'm sure I'm forgetting something, but generally, anything you've ever stuck to your refrigerator with a magnet can be done better with a kitchen iMac. Now we just need to manage the clutter of gadgets alongside it.
---