Most traditional holidays are syncretised perversions of even older traditions, which then get secularized into excuses to eat a whole bunch. Christmas falls, not coincidentally, close to the winter solstice, and borrows heavily from earlier winter festivals, featuring lots of gingerbread, candy canes, traditional hams and large family feasts. Thanksgiving, being largely a continuation of post-harvest feasts in Europe, has always been about eating. We have, of course, taken this to ridiculous extremes with turducken, a Thanksgiving dish prepared by…
…cramming a boneless chicken into a boneless duck, which is stuffed into a boneless turkey. Three kinds of stuffing are layered between the three kinds of meat and the monstrosity is cooked for a very long time. The end result, when cut, is a fantastic food rainbow that must be eaten to be believed.
Easter, which may or may not have been named after a pagan fertility goddess, falls conveniently close to the spring equinox, allowing the syncresis of rabbits, eggs and the rebirth of nature into a ritual about the slaughter and rebirth of God. Easter also now has been subverted into being about eating, though hasn't yet been taken to the extremes of Thanksgiving turducken.
Until now.
Making Easter turducken is, fortunately, much easier than a traditional turducken, as it abandons all that pesky protein while fully embracing the empty carbohydrates and fat. While technically Easter turducken is a dessert and traditional turducken a main course, they should never be consumed in the same meal. That would be heresy.
As with traditional turducken, Easter turducken starts from the inside out. The core is formed with miniature Cadbury cream eggs: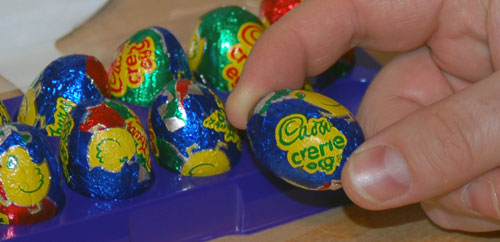 Take an ordinary peep and make a large slit in the bottom, as deep as possible without going all the way through: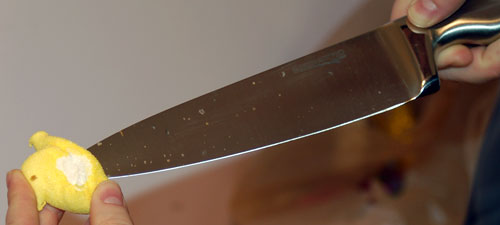 Stuff an egg into the slit, stretch the sides around it, and fold the peep's tail down. Repeat with a few more peeps.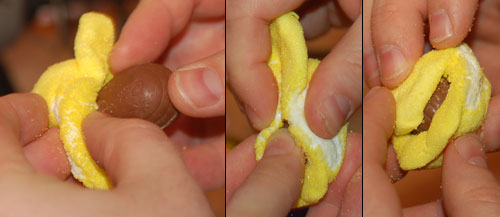 The outer layer finally makes good use of one of the more odious culinary travesties, the irritating hollow bunny. As a kid, nothing was more annoying that thinking you'd been given a huge block of chocolate, and it turns out to be empty. To get the egg-stuffed peep goodness into this abomination, first you must open the bottom. Anything worth doing is worth doing with power tools, so take a dremel and cut around the perimeter of the bottom: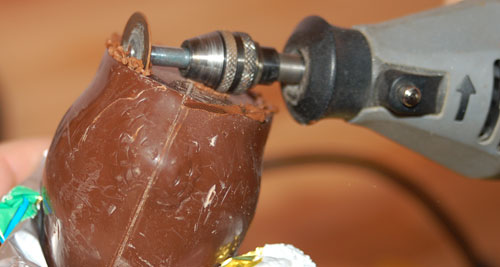 Once the hole is made, stuff the now egg-bloated peeps into the bunny. Note that some hollow bunnies suck even more than others, and crack and fall apart really easily, so be careful. Once you're done, put the bottom back on. The really ambitious might try re-melting the seam in the bottom closed with a crème brûlée torch.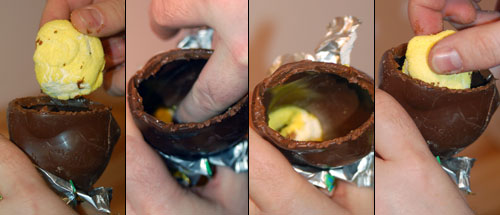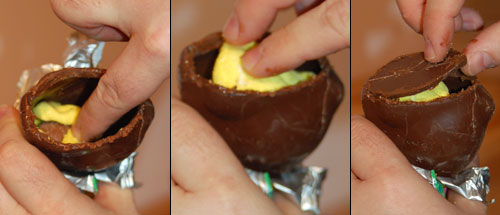 Voilà, the loathsome hollow bunny is transformed into several thousand calories, as God intended. Many children wonder around Easter how it is that bunnies lay eggs. As a side benefit, Easter turducken illustrates clearly that this "theory" is wrong. Obviously bunnies lay chickens, which then lay the eggs. Mystery solved.
Now fully prepared, the Easter turducken can be eaten. There is probably some kind of psychological test about what part of the bunny you eat first. I always go for the neck. Since it is held together only by a cheap-ass hollow bunny, once you start eating your turducken, it will collapse rapidly. Be prepared for a mess.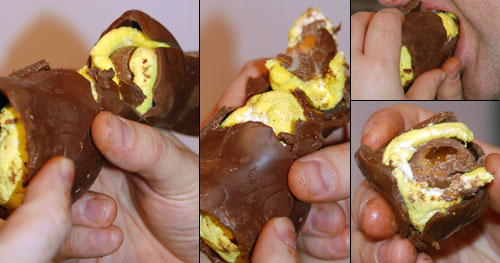 Yummy. A guess at the nutrition information for a three peep turducken:
Nutrition Facts
1 Easter turducken • 98g
Amount Per Serving
Calories 456
Calories from Fat 158
% Daily Value*
Total Fat 18g
27%
Saturated Fat 11g
44%
Trans Fat 0g
Cholesterol 15mg
4%
Sodium 74mg
4%
Total Carbohydrate 70g
24%
Dietary Fiber 0g
0%
Sugars 65g
Protein 6g
Enjoy your Easter turducken. And bring lots of paper towels. And maybe a bib. Let me know how your own turn out.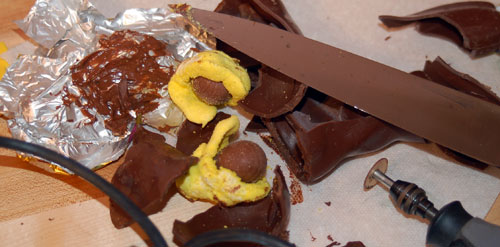 ---